TWO MACHINES IN ONE
KOMBO TAV
Full Automatic cutting plotter with integrated loading – cutting – unloading system for packaging and display.
TWO MACHINES IN ONE: A CLEAN CUT TO PRODUCTION TIMES.
Kombo TAV is the flexible and modular, innovative dieless cutting system, with two indipendent cutting heads and material handling integrated in the production cycle. Among its various original and innovative solutions, Kombo TAV it is the first step to the true complete workflow automation and guarantee a production increase and the cost reduction whilst offering a non-stop working not to be found in any other dieless cutting system.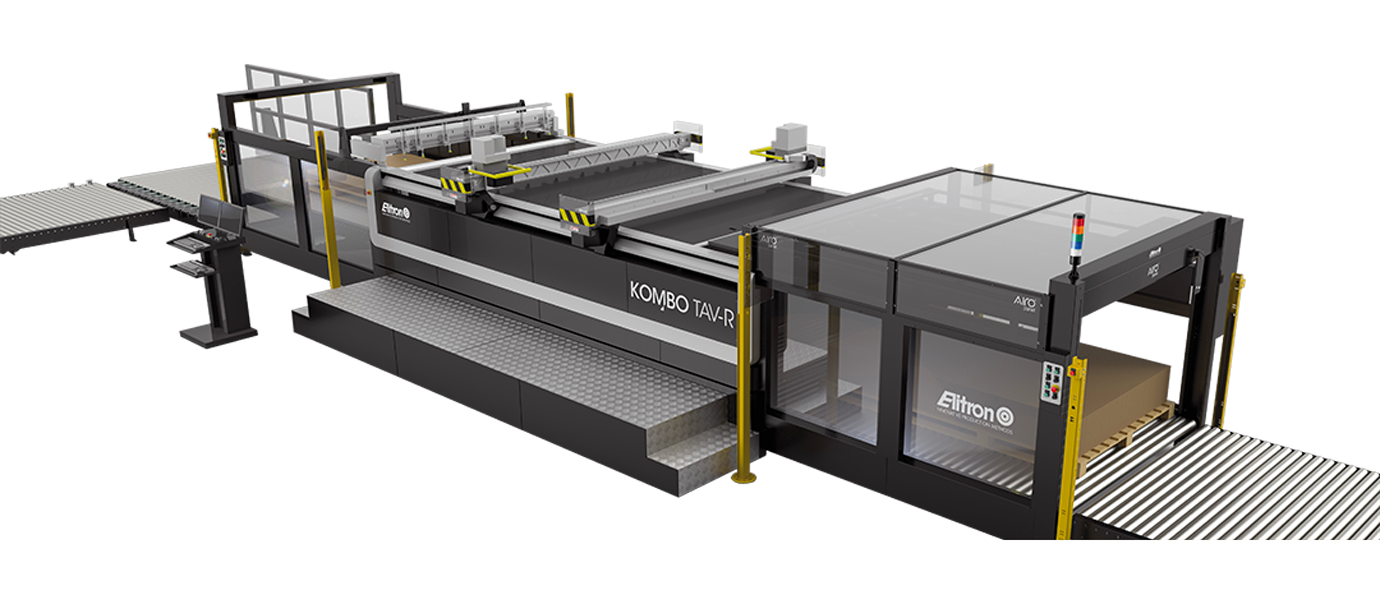 ADVANCED ROBOTICS
Flexible and Full Automatic.
Kombo TAV is the only plotter with two independent cutting heads to accelerate production times with more jobs being processed in less time. This flexible dieless finishing system cuts production times and reduces costs whilst offering maximum versatility for both short and complex production runs. The innovative integrated loading and "AiroPanel" unloading systems – patented by Elitron – fully automate the entire production process, reducing costs, for a non-stop workflow. KOMBO TAV is the only plotter that comes ready to install a fully motorised roller loading system. The system can also be raised to take a pallet of up to 1380mm high, thanks to this option more material can be loaded for increased productivity.
Full Automation.
Kombo TAV-R represents the cutting department state of the art. In the most complete version, full automation results in an elaborate motorized materials handling system, exclusively developed by Elitron. The effect is a high-performance cutting system that will revolutionize the concept of integrated automation in the company production cycle, both with other Elitron's products and with third parties' products. A real 24/7 production without operator.

Contact us
Our team of consultants is at your disposal to offer you professional support in choosing the best solution for your company.